ABOUT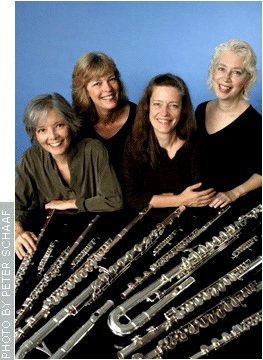 We are a flute quartet. Actually, we may be the first professional flute quartet to have formed in the United States. Since our first concerts in 1981, we have maintained a presence on the chamber music scene by offering innovative and varied programs, and continuing our dedication to virtuosic performances. We have mined the existing original literature, created our own transcriptions, and commissioned and premiered a substantial number of new works. Each of us plays all the flutes of the flute family: the piccolo, flute, alto and bass flutes-sometimes in a single concert.
Musical America has called Flute Force "an extremely persuasive advocate for the flute quartet medium: four top-quality players in a perfectly balanced and expressive ensemble."
Flute Force is self-managed. We design chamber music programs for all types of audiences, educational concerts and masterclasses for students of all levels. Recipients of grants from the National Endowment, Chamber Music America, the New York State Council on the Arts and Meet the Composer, we have been featured artists in venues throughout the United States and Canada and were guests of the Australian Flute Festival in Melbourne, Australia.
Flute Force is based in New York City.