ABOUT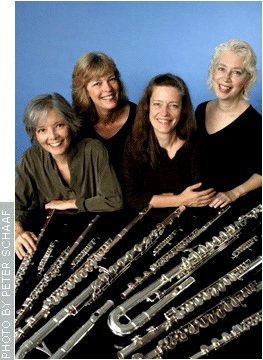 Founded in 1981, Flute Force has distinguished itself as America's foremost flute quartet. As winner of the Artists International Competition, Flute Force was presented in its Carnegie Recital Hall debut in 1985.Musical America has called Flute Force "an extremely persuasive advocate for the flute quartet medium: four top-quality players in a perfectly balanced and expressive ensemble."
Flute Force has performed extensively in the United States and Canada. Highlights of past seasons have included performances at Yale University, Dartmouth College, Johns Hopkins University, the Universities of Tennessee, Florida, Washington, Iowa, Missouri and Pennsylvania, the San Francisco Museum of Modern Art, Merkin Concert Hall and for the New York Flute Club and the National Flute Association's annual conventions in Minneapolis, Los Angeles, New York and Atlanta. Flute Force has collaborated in concerts with renowned flutists Julius Baker and Paula Robison. The group also appeared on American Public Radio's St. Paul Sunday Morning, WQXR, WNYC and on New York and New Jersey public television. In March 2002, the group performed at the Australian Flute Festival in Melbourne, Australia.
The group recorded six flute quartets by American composers for CRI (1990). Their second release, Pastorale, on the VAI Audio label (1996) includes guest flutist Julius Baker in Rie Schmidt's arrangement of Daphnis and Chloe by Ravel. Their third CD, Eyewitness, released by the American Composers Forum on their Innova label (2001) includes Garrison Keillor and the Meridian String Quartet as guest artists. Flute Force was also included on a Windham Hill release entitled Mozart Variations. Excerpts from their recordings were used in the HBO series, Sex and the City.
Flute Force has received recording, commissioning and residency grants from the National Endowment for the Arts, the New York State Council on the Arts, Chamber Music America, Meet the Composer/Reader's Digest Commissioning Program, the New York Foundation for the Arts, the Manhattan Community Arts Fund and the American Composers Forum. Flute Force was awarded a grant from Chamber Music America as part of the Musical Celebration of the Millennium Community Partnership Program. The residency took place at East Tennessee State University. Recently, composer Joseph Schwantner accepted a commission to write Flute Force a piece to celebrate their 25 years of chamber music, supported in part with a grant from the Brannen-Cooper fund.